1. Complicated Bureaucratic Tangles Create Dangerous Situations for Moms-to-be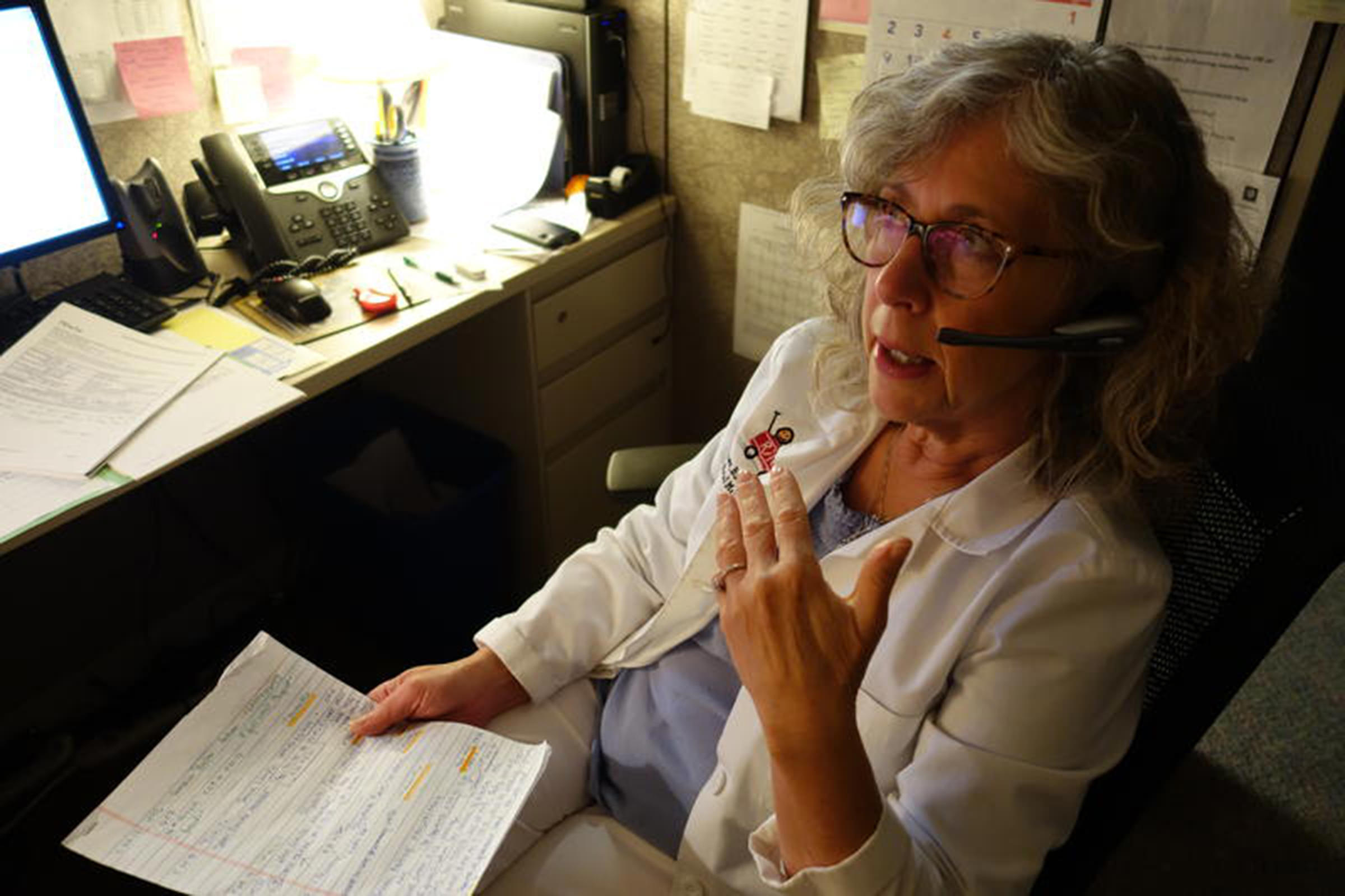 Emily Forman / Side Effects Public Media
Nurse Catherine "Bizz" Grimes moves like her name sounds: at a frenetic pace. She darts across the hall from the prenatal diagnosis clinic at Indiana University Health University Hospital in Indianapolis, sits down at her cubicle, puts on her headset over curly white blonde hair and starts dialing.
A pen in one hand, a notepad in the other, she logs every call. She calls this her log of "Medicaid messes and nightmares." She invested 57 minutes in one patient's case the day before (put on hold once, forwarded three times). This is round two.
"It's like, 'OK, this has become a battle, and I'm going to win,'" Grimes says. "And I usually do."
Grimes spends over 20 hours a week calling pharmacy directors and insurance plan supervisors. She's fighting to get insurers to cover her pregnant patients' addiction medicine — keeping them in stable treatment for the length of their pregnancy.
Insgurers set rules that sometime make patients wait for days for their addiction medicine. Pregnant women need a medication called Subutex (buprenorphine) to have healthy pregnancies. Without Subutex, or a similar medication such as methadone, patients will go through withdrawal. They could possibly deliver early and lose their baby or relapse and expose the baby to infections.
And of course, if they relapse, they could overdose.
Even though most insurers cover Subutex, insurance plans require paperwork, called a prior authorization, before they'll approve its use. Prior authorization requirements are especially onerous for pregnant women on Medicaid who may have to submit new paperwork multiple times during their pregnancy. Any one of these could become a potential crisis.
"What's so frustrating about it is their pregnancy in theory could be held hostage by these people who are not medical professionals," says Grimes.
Waiting for meds
The prenatal diagnosis clinic, where Grimes works, is a Riley Children's Health program located at IU Health University Hospital. They specialize in working with mothers addicted to opioids, and rely on Grimes to handle insurance obstacles and keep patients in consistent treatment. Almost all of her patients are covered through Medicaid.
Prior authorizations can be riddled with bureaucratic hold-ups and clerical errors. Grimes spends a lot of time re-faxing information she's already sent, such as patients' drug test results or proof they're in therapy. The hounding phone calls ensure these bureaucratic errors get fixed quickly. Without someone like Grimes to help, many women give up when they get a denial. Grimes never does.
One woman Grimes helped is Briana Roahrig. A 33-year-old mother of two girls, she'd been in and out of treatment for an addiction to opioids that started when she got hurt in a diving accident at 17.
Grimes got Roahrig's insurance plan to approve the paperwork for her medicine. But then the plan mistakenly sent her a letter, denying coverage. Since she couldn't afford the medication out-of-pocket, Roahrig stopped coming to the clinic and got sick from withdrawal.
Roahrig says, before Grimes, she fought her prior authorization battles alone. Sometimes approval took over a week. Sometimes she'd sweat it out, other times she'd relapse.
Sometimes when she was stuck in bed from the withdrawal symptoms, she'd pull her daughters into bed with her and give them an iPad to play with.
"Then I struggle to get up to make them food," she says.
This time, when Roahrig didn't show up to her appointment. Grimes called. She got things worked out within hours.
"If Bizz wasn't around, I would have been screwed. I would have been without meds still, but she called and called and called until it finally went through," says Roahrig.
Inconsistent coverage
Often, patients have to get multiple prior authorizations throughout their pregnancy.
When a woman becomes pregnant, she'll likely need to shift from her current medicine to Subutex. During pregnancy, the state could switch a patient to a different insurance plan for pregnant women, or a doctor could prescribe a higher dose (common during a third trimester.)
After delivery, she might need to switch to another medication. All these steps can require separate prior authorizations.
"It's just insane. I mean, it's not like it's some unusual drug that only a few number of people need," says Grimes. "It's an epidemic."
Addiction treatment specialists say these roadblocks are a deliberate effort by the insurance industry to limit costs, though industry representatives argue they need prior authorizations to prevent people from abusing the opioid-based medication.
Congress passed a law in 2008 requiring insurers to treat mental and physical illnesses equally, but there are still inconsistencies in practice. Dr. Louis Baxter, past president of the American Society of Addiction Medicine, points out the strict prior authorization requirements for Subutex and other forms of buprenorphine are generally not applied to opioid painkillers.
"A doctor can write a prescription for Oxycontin or morphine sulfate. The patient can take the prescription to the pharmacy and get it filled no problem," he says. "From our standpoint that is not equitable."
In a report published by the federal government in 2014, researchers found that prior authorizations were in use in Medicaid programs in 48 states.
It can be a matter of life and death, says Baxter. If a patient has to wait for three to five days, they may start using heroin or other opioids again. He's even had a patient who overdosed and died while waiting.
Last year, New York outlawed prior authorizations for its Medicaid insurance plans. In New Jersey, a new law will go into effect in January to require insurers to provide at least a six-month supply of the meds while waiting for prior authorizations. But in many states, patients still face administrative barriers.
A daily battle
For Grimes, her job is a constant challenge to remove these barriers. And she never lets up. When an insurance company makes a mistake, she doesn't like to let an hour to go by without calling them to get to the bottom of it.
Now she wants to find out why someone sent Briana Roahrig a denial letter, after the drug was supposed to be approved.
She calls up an insurance plan manager. Partly she's trying to understand their process so she can figure out the most direct way to cut through the red tape next time. Partly she just wants to make someone pay.
The supervisor on the phone starts questioning Roahrig's medical history. Grimes cuts her off: "Our doctors know what's going on..."
She continues in a forceful tone: "I don't know why our pregnant patient was forced to withdraw for three days."
She continues to chide the insurances supervisor, reminding her she's not the medical professional —Roahrig's doctor is. She gets an apology.
Another battle fought and won. Tomorrow she'll be back here, headset on, pen and notebook in hand, working one phone call at a time for her patients' healthy pregnancies.
2. Afraid To Treat Pregnant Women, Doctors Drop Addicted Patients At A Vulnerable Time
Every other week, Cassidy Linnemeier carpools with a friend to their OB-GYN in Indianapolis from Seymour Indiana, where they live. The drive is about an hour and 20 minutes with traffic.
They drive this far because they can't find a doctor nearby who will prescribe the addiction medicine they need to keep them healthy during pregnancy — and who also takes their insurance, a Medicaid plan.
The medication is called buprenorphine. It curbs cravings. Combined with therapy, Linnemeier says the medicine has helped her stop using, hold down a job, and take care of her kids.
"As long as it's taken the way it's supposed to be taken and treated the way it's supposed to be treated it's an amazing thing," she says.
But when Linnemeier got pregnant several months ago, she says her doctor at the time dropped her and she struggled to find a provider who would treat her addiction. "I've never went through so much hassle to get something that I need, that my doctor agrees that I need," she says.
Doctors who can prescribe a medication for opioid addiction, and accept Medicaid, are already scarce. But even fewer will treat pregnant women. At this most vulnerable time, when both mother's and baby's lives are at stake, some doctors even drop their patients. It's caused by ungrounded fears of treating pregnant women, says Elizabeth Krans, assistant professor in the Department of Obstetrics, Gynecology & Reproductive Sciences with the Magee-Womens Research Institute. Krans studies buprenorphine treatment adherence in opioid dependent pregnant women.
"Everyone is just nervous about [the] neonatal impact of medications regardless of tons of research on the safety of a lot of meds in pregnancy, including buprenorphine," she says.
Before Linnemeier got pregnant, she had been going to a doctor about an hour from Seymour. Her doctor prescribed her buprenorphine but, she says, he gave her a warning: "He said, if we find out you're pregnant and you haven't told us you're pregnant already we have to discharge you."
When Linnemeier suspected she was pregnant, she told her doctor. He gave her a two-week supply of Subutex, a version of buprenorphine for pregnancy, and discharged her, telling her, "You're going to have to find a new doctor."
When a women in Linnemeier's situation runs out of the medication, it only takes hours for withdrawal symptoms to set in. She might relapse and expose her baby to infection. Or overdose.If she's in her final trimester and starts using street drugs again, there's also a risk of miscarriage.
It's common for pregnant women in treatment for opioid addiction to get discharged by their doctor, according to addiction treatment experts working with this population. Dr. Tara Benjamin runs a prenatal clinic specializing in helping these women, a program of Riley Children's Health based at Indiana University, University Hospital. Benjamin says, a few years ago, more and more patients started showing up at her clinic addicted to prescription pain pills and heroin.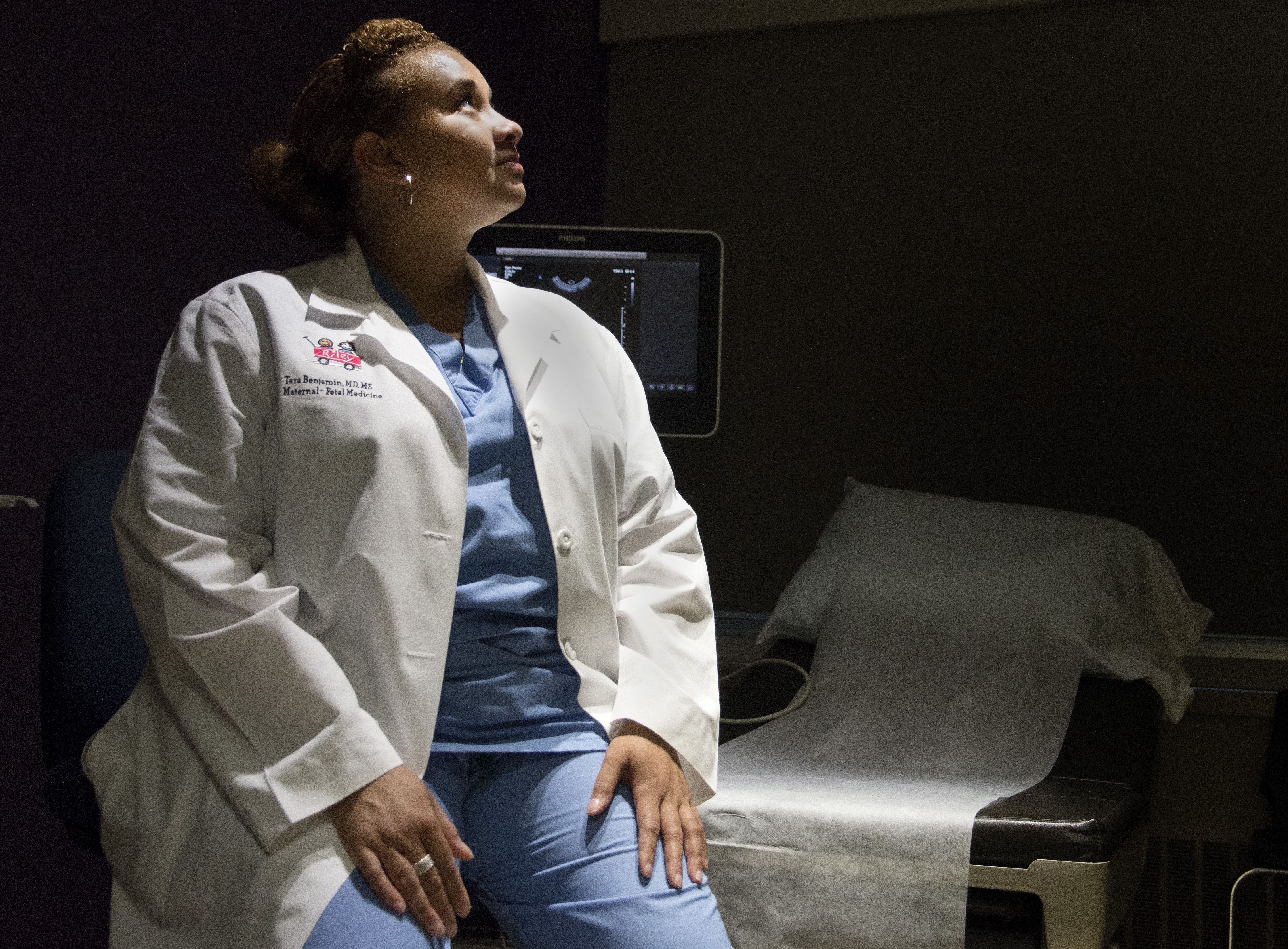 Grace Hollars / Side Effects Public Media
"What happened was we started getting patients coming into us saying 'I was on Subutex and my doctor cut me off and I don't know what to do,'" says Benjamin.
To prescribe buprenorphine, the active ingredient in Subutex, doctors must take an eight-hour course, and request a special waiver from the Drug Enforcement Administration. During the first year, these doctors may treat up to 30 patients. After a year, they can choose to apply to take on up to 100 patients. Benjamin is the only OB-GYN in Indiana who will treat 100 patients with addiction. Benjamin says just a handful of OB-GYNs in the state have the waiver.
Benjamin manages the load - linking patients with a social worker, therapy, and transportation to the clinic. She says you can't just stop prescribing once a patient gets pregnant.
"If I had my way, whatever doctors were taking care of them before, would continue to take care of them," she says. "Stopping it is the worst thing you can do."
At the very least, she says, doctors are supposed to give patients written notice and time to find a new doctor, according to patient abandonment law. The recommended timeframe in most states is 30 days. Medical ethics guidelines warn against abruptly withdrawing care. In some cases it can be litigated as abandonment.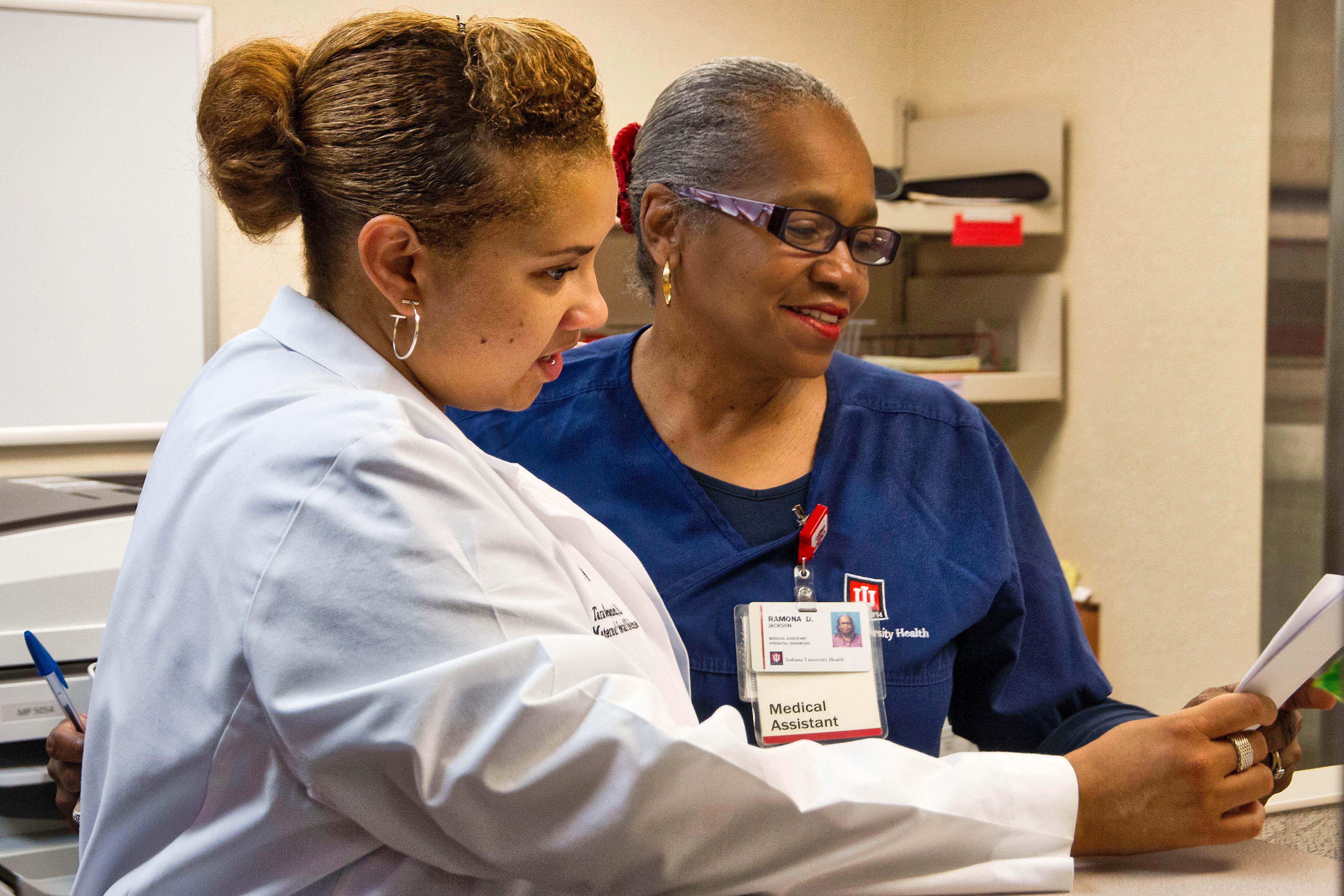 Grace Hollars / Side Effects Public Media
In fact, firing pregnant patients is not only risky, it's unnecessary says Dr. Louis Baxter, immediate past president of the American Society of Addiction Medicine. Baxter, who helped shape national guidelines for how buprenorphine should be prescribed, says you don't need to be an obstetrician to prescribe buprenorphine to pregnant women. Any doctor with the DEA waiver can prescribe for these women.
"A lot of physicians become fearful in that situation because they're not fully educated, or they don't understand how these patients should be managed," Baxter says.
Baxter says, as long as their patient has an OB-GYN that's aware they're taking Subutex, the primary care physician can keep prescribing. "The fear that some prescribers have is really unfounded," he says. "There's very little risk."
He says he thinks the eight-hour course that doctors take to get the waiver should be updated to include discussion of treatment during pregnancy.
After her doctor dropped her, Cassidy Linnemeier rushed to find a new doctor before her two-week supply of medicine ran out. In total, she went to three doctors before she found Dr. Benjamin's clinic in Indianapolis. The first fired her. The second refused to treat her. The third didn't prescribe buprenorphine. By the time she met Dr. Benjamin, she was rationing her tablets, taking less than the recommended dose each day to stretch it out.
"Thank God I had enough to last me," she says. "At least I wasn't withdrawing."
But Linnemeier is happy she landed where she did. "The nurses and the doctors are amazing," she say. "I love it."
She says she'd hate for other women to go through the uncertainty she went she went through. She's just thankful she and baby made it to a new doctor.
"I got to hear a heartbeat today so I know she's OK," she says. "And I got to see her a few days ago and everything is fine."
3. New Moms Need Daily Addiction Help To Stay In Recovery... And Stay With Their Kids
Tia Hosler woke up at 7:35 a.m. on a friend's couch next to her newborn son's crib after an overnight babysitting gig.
The 26-year-old had slept through her alarm and was late for the bus, her ride to group therapy in Fort Wayne, Indiana. And now she had to scramble. She tied her Kool-Aid-red hair into a tight bun and kissed her 2-month-old, Marsean.
"Bye booga," she cooed. "I love you booga!" He was spending the day with his dad, her boyfriend. It was an important day for Hosler, her first day back to group therapy since giving birth.
"It's always a struggle for me to get out the house," she said on her way to the bus stop.
Every day Hosler juggles bus schedules, doctors appointments, random drug testing and job hunting. She doesn't want to give Child Protective Services any reason to investigate her or question whether or not she's fit to take care of her son.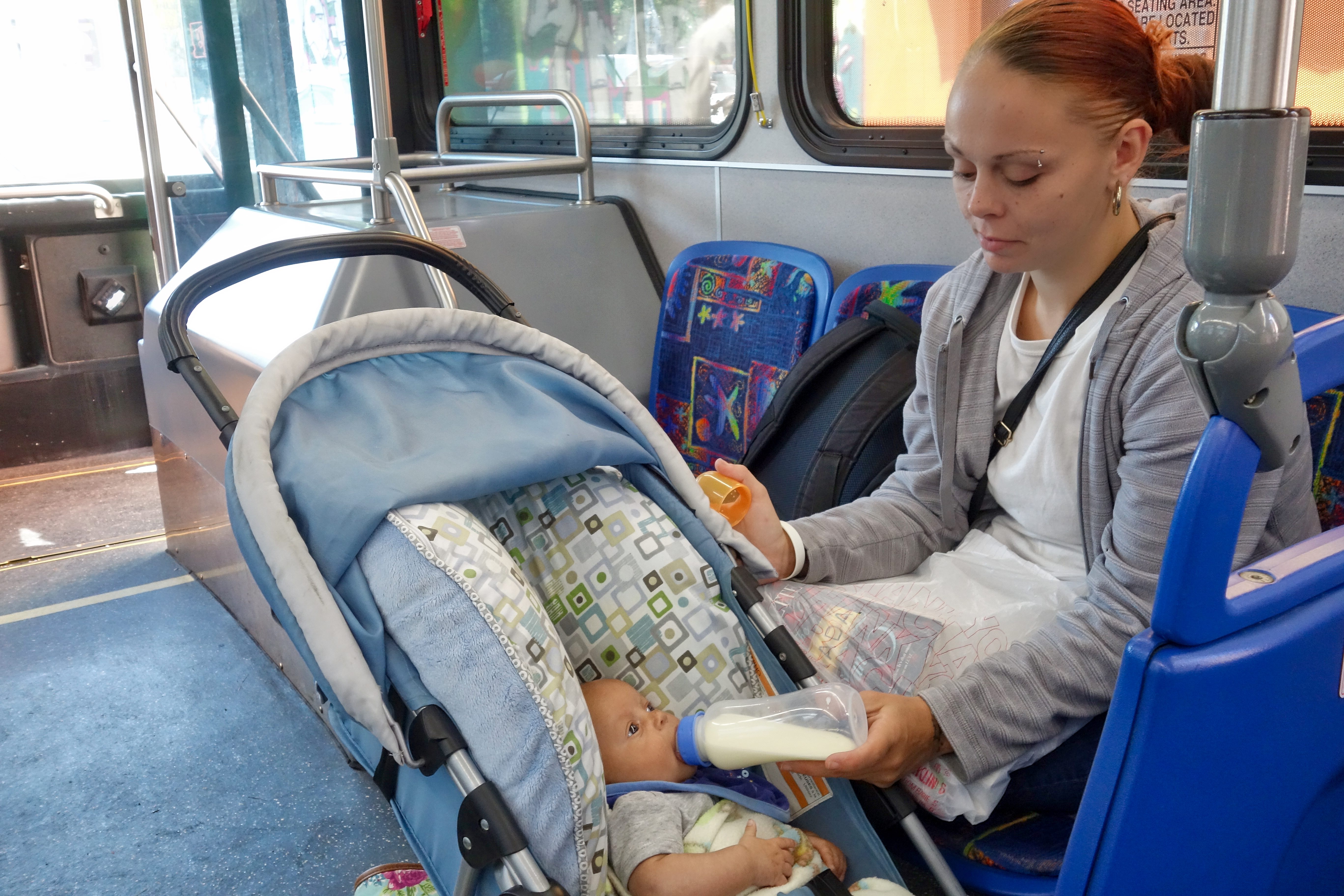 Emily Forman / Side Effects Public Media
For thousands of moms with opioid addiction, this is their struggle: keeping their disease under control during and after pregnancy, in order to keep their kids. If a baby is born with traces of illicit drugs in its system, Child Protective Services will likely start an investigation. That could eventually lead mothers to lose custody, if they are not receiving consistent treatment.
But finding that treatment is hard. And many mothers are wary when it comes to asking for help, for fear child protective service will take their kids.
That's what happened to Hosler with her daughter a year ago.
When Hosler was pregnant with her 4-year-old daughter Kavaiya, she says she felt an immediate connection. "I just bonded with her, with her inside of me," she says.
A year after Kavaiya was born, Hosler started using heroin. When it became impossible to start her day without it, she checked into a treatment program. A counselor there called CPS, and Hosler's stepdad was given temporary guardianship of Kavaiya.
"When they took her it's like they ripped my heart out my chest," Hosler says. "It was really hard, especially when I wasdoing everything necessary to not lose her."
When Holser became pregnant with Marsean, she risked losing him too.
After a felony landed her in the Allen County drug court, the judge referred her to the Bowen Center, a mental health and addiction treatment facility. That's when things turned around for her. While many clinics won't treat pregnant women for addiction, the Bowen Center makes the group a priority and ensures continuous care even after birth. For example, expectant moms experiencing severe withdrawal will see the doctor right away. One of many psychiatrists will prescribe addiction medicine. The staff will work with Indiana Medicaid insurers to cover the medication, rather than allow a day to go by without it where they might relapse.
Few clinics in Indiana will do what the Bowen Center does: take Medicaid for addiction medicine, treat women in recovery while they are pregnant, offer life skills support from social workers and continue to provide care after they deliver.
It's rare to find all these services in one place, and when they have to scramble to find the care they need, many women relapse.
Bowen Center has six locations, serving ten counties in Northeast Indiana. Melanie Stauss, a licensed clinical social at the center, says the staff works hard to build trust with women seeking care.
"A lot of times there's just a whole lot of shame and fear that that [the state] will get involved or that they're just scared that they'll lose their baby," she says.
Strauss says many women are afraid of being judged for their addiction. At the Bowen Center, she says, the focus in on helping them, not judging them.
"I think the more supportive that we can be and the more understanding and compassionate towards them the more willing they're going to be to engage and get the help that they need," Stauss says.
After birth, says Stauss, with a newborn on their hands, moms need a lot of extra support with basic needs: "How to manage stress, trying to find a job, how to find childcare, how to continue to avoid people, places, and things that cause them to use, try to get their basic needs met, how to put food on the table…" The Bowen Center helps with everything.
Between group therapy and appointments with her psychiatrist and therapist, new mom Hosier visits the center almost everyday—a 45-minute two-bus commute. She says it's helpful that everything she needs to stay off drugs is in one place, including a pharmacy where she can immediately refill her prescription. And staff help her with the job hunt, driving her to drop off job applications.
She says it's working for her. "I've stayed clean for my daughter and my son now," she says.
In addition to her treatment at the Bowen Center, Hosler is learning to manage her disease and her life. One of many steps on her to-do list includes getting a job. During a supervised visit with Kavaiya, her CPS caseworker told her she's good with kids. So she may consider a career in daycare or social work. But she says it's daunting building a career now after having lost so much time to drugs.
"I can't get those years back. I wish I could," she says, "But I'm not old yet. I could still make something of myself."
At lunchtime, Hosler reunites with Marsean and her boyfriend at the bus stop where she started her day. She says sometimes she rides the bus all day.
This is what we do. We got to get a car. We used to have two cars, but things happen and addiction will do that to you," she says. "It's a very bad disease and it rips everything away from you."
She says her kids keep her going. "Just waking up seeing my kids faces: that's the best feeling in the world. Especially this little guy," she looks down at Marsean. "His smile."
Someday soon she hopes to bring Kavaiya home. She recently started renting an apartment.
Her boyfriend now works seven days a week at a plastics factory. These steps help her case.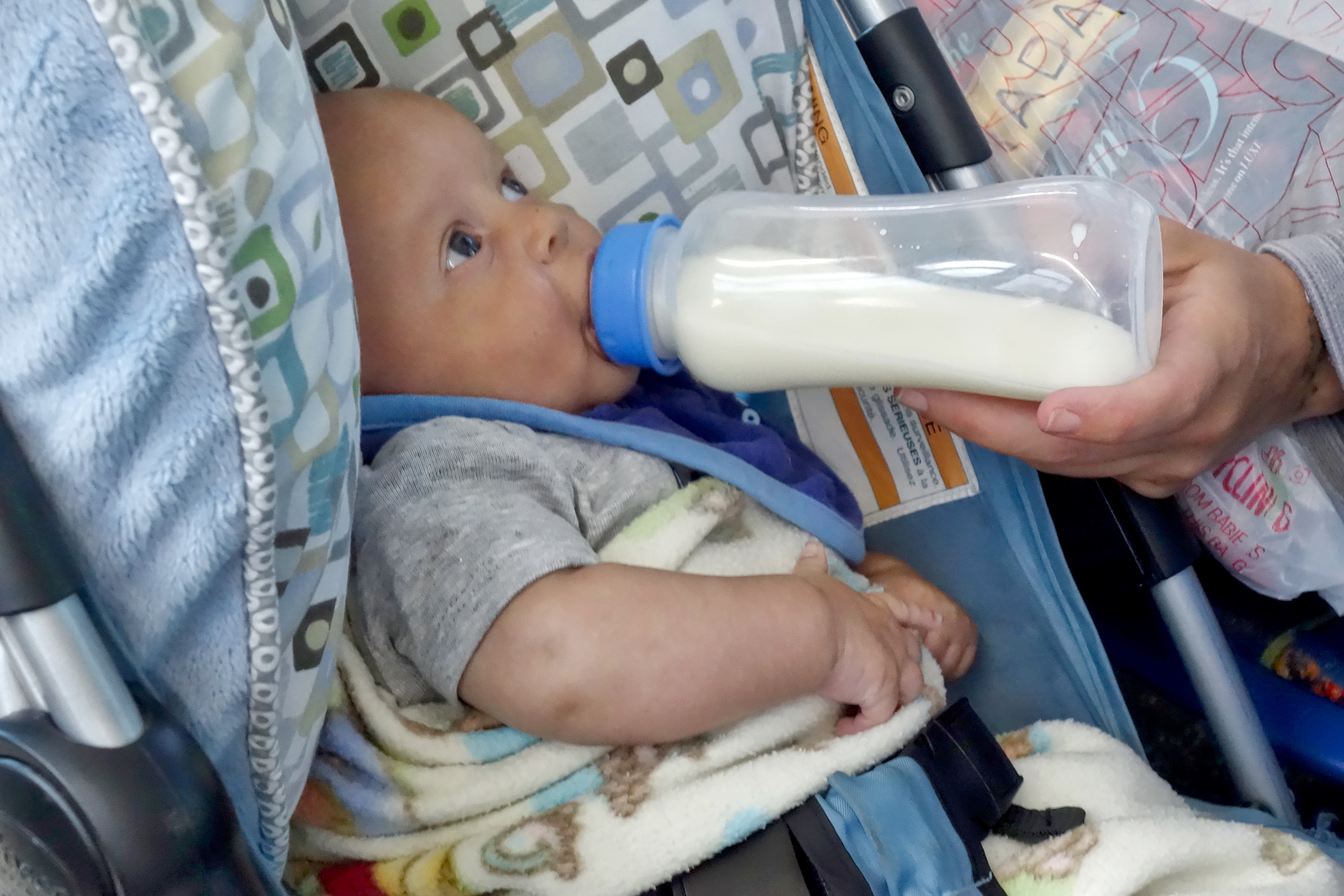 Emily Forman / Side Effects Public Media